Rotary Screw
Gas Compressors
Rotary Screw Gas Compressors
Rotary Screw Gas Compressors
Compressing gasses other than air may be necessary for some heavy-duty applications. Kaishan manufactures a full line of rotary screw gas compressors to meet many material, application, and budget needs for heavy-duty industrial and process use. Each machine in our rotary screw gas compressor line is backed by innovative technology, best-in-class reliability, and a price point that's right for you.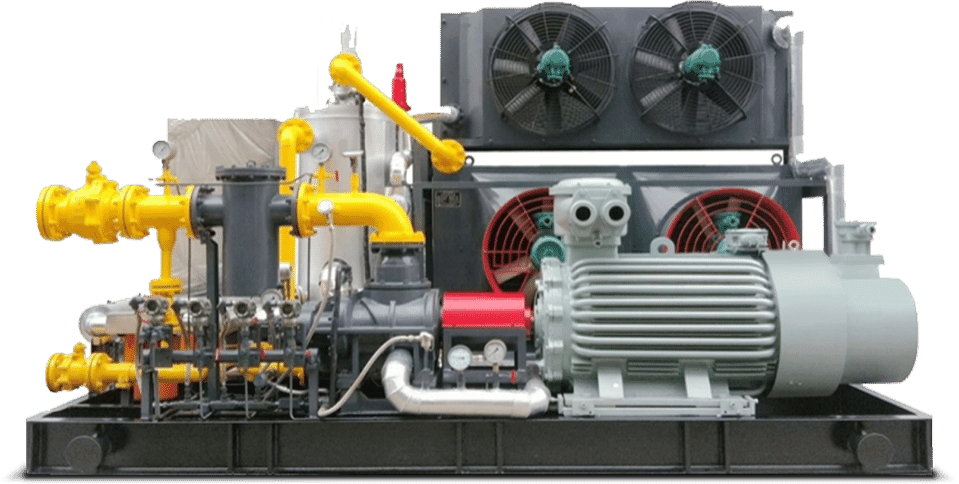 Rotary screw gas compressors operate by drawing gas into the compression chamber, where screws compress the gas and force it out through discharge ports. Our compressors are designed for applications that demand high volumes of gas that must be compressed constantly, operating at 100% capacity for maximum efficiency and reliability.
Rotary Screw Gas Compressor Applications and Industries
A rotary screw gas compressor can be used in a number of different heavy-duty industrial applications where a gas other than air must be compressed. Some of our compressors are suitable for commercial use, but the typical industries in which our compressors are used are:
Oil and gas
Energy
Chemical processing
Coal
Biofuel
Industrial gas compressor applications include:
Natural gas compression for extraction and delivery
Petrochemical and refinery applications, such as hydrogen for gasoline and helium for cryogenics
Coal chemicals, such as gas for coke ovens
Environmental uses, such as biofuels and the removal of biomass gas, landfill gas, and other CO2-focused uses
Energy applications, such as fuel for gas-powered turbines
Materials Compressed by Rotary Screw Gas Compressors
Ethylene
Styrene
Blast-furnace gas
Butadiene
Acid hydrocarbon
Steam reclamation
Vapor
Tail gas
Destruction producer
Nitrogen
Acetylene
CNG
Lime-kiln gas
Hydrogen
CO2
Flare gas
Ethane
Propylene
Propane
Ammonia
Sour gas
Chlorine
Coke oven gas
Coal gas
CO
Rotary Gas Screw Compressor Benefits
We offer five different types of rotary screw gas compressors, each backed by innovative technology and our signature reliability for always-on operation. These gas compressors offer the following features and benefits:
High Efficiency: Kaishan's compressors are designed and engineered to provide superior efficiency and optimized, energy-efficient performance. Our rotary screw gas compressors are designed to reliably meet your needs in ways that other equipment can't.
Total Electronic Control: Users can manage all the essential parameters from one central interface. Built-in alarms notify you of any abnormal performance while password-protected control systems keep your operations safe.
Remote Status Monitoring: Kaishan compressors were built to collect and monitor performance data from anywhere. This feature also enables you to track energy efficiency and ROI over time, thereby improving future usage as you collect more data.
Self-Lubricating Oil System: Engineered for maximum safety and reliability, our lubricating oil system has been tailored over the years to ensure that maintenance requirements remain minimal and operations are as self-sustaining as possible.
Safety: Keeping your team safe is a key concern for Kaishan. Our rotary screw gas compressors contain several features to support operator and facility safety. These features include machinery enclosures, shields, and guards, as well as easy-to-use, intuitive temperature, pressure, water, oil, and other monitors, gauges, and alarms that reduce the probability of accidents.
Reach out today to learn more about rotary gas screw compressors and see how the Kaishan team can help you better meet your goals. Contact us today.